The Good, Bad and Ugly
We decided to add this section to highlight establishments that serve a good Hot Dog. Even though they don't measure up to our favorite Chicago Dog, they are still worthy of mention.
On the flip-side, this is also a great place to tell stories about how our search for the Perfect Chicago Dog went horribly wrong.

The Good



Dotty Dumpling's Dowry - 317 N Frances St - Madison, WI - (608) 259-0000
Date of visit: 01-11-2006
Dotty's, the self-proclaimed "World Hamburger Headquarters" is a Madison institution and best known for their award-winning Burgers. Unfortunately, the original Dotty's was torn down in 2001 to make way for the Overture Center, but luckily they have since re-opened at their present Downtown location.
On our most recent visit, we were not interested in their burgers. Instead we wanted to try their Hot Dog. Their menu lists the following: "100% Vienna Beef dog. Your choice of toppings". Their list of available toppings would get us very close to the likeness of a Chicago Dog. Our only concern was about the sport peppers since the menu only listed "Hot Peppers".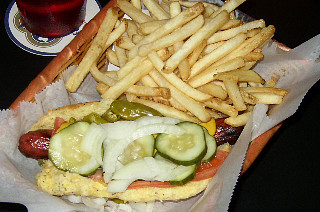 Once again we had a wonderful waitress who was patient enough to put up with our barrage of questions regarding the Dog we were trying to create. After carefully selecting our toppings, we asked if we could specify the order the toppings were to be placed on the Dog. After realizing we were getting too high-maintenance, we told her not to worry about the order and hoped for the best.
Our Dog arrived on a poppyseed bun and our creation looked very much like a Chicago Dog. The Dog was grilled and topped with standard green relish, sliced tomato and onions, pickle slices and yes...sport peppers. The only topping we were unable to get was Celery Salt.
The Hot Dog was excellent and the pickle slices were outstanding. We also really enjoyed their fries. If you visit Dotty's, make sure you try their malts or shakes. You will not be disapointed.
For more information on Dotty's, visit their website: www.dottydumplingsdowry.com

The Nitty Gritty - 1021 N Gammon Rd - Madison, WI - (608) 833-6489
Date of visit: 10-02-2005
My first visit to The Nitty Gritty was many years ago while visiting my sister at college. Years later when I also attended University of Wisconsin-Madison, I became a regular at the Gritty...especially since my dorm (Witte hall) was directly across the street from their Frances street location.
The Nitty Gritty is best known for their "Gritty Burgers" and as the self-proclaimed "Official Birthday Place". Besides a nice selection of burgers, their extensive menu also includes a variety of sandwiches and salads. One of their house favorites is the "Jumbo Dog" which the menu describes as a 1/4 lb Vienna Kosher-Style Beef Frank, seved on a poppy seed bun with a side of Chicago Style relish.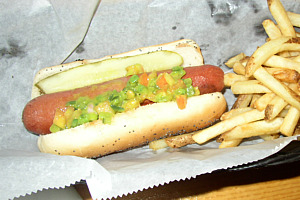 The Vienna Hot Dog is served on a poppyseed bun and includes a kosher-style dill pickle spear. The pickle was excellent. The "Chicago Style" reslish appears to be a mixture of relish, mustard, onions and tomatoes. It wasn't bad, but I would have preferred individual ingredients. The Dog was great and had lots of flavor, but I expect no less from a Vienna. Most sandwiches come with a choice of fries, pasta salad or pub chips. The fries are very good.
The Gritty has two locations, the original downtown location and one in Middleton. On your next birthday, be sure to visit. For more information on The Nitty Gritty, visit their website: www.nittygrittybirthdayplace.com


CLOSED -

Tallard's Station - 152 Forsythia St - Middleton, WI - (608) 664-9393
Date of visit: 10-18-2005
Update (August 2007): Thanks to a tip from one of our site visitors, we have been informed that Tallard's Station has closed their doors. My guess is that increased restaurant competition in Middleton as well as their odd location hurt their business. Below is the story about our visit.
We recently gained two new employees in our department at work. Keeping up with tradition, we took them out for a "Welcome" lunch and ended up at Tallard's Station off Airport Road in Middleton. While perusing the menu, the following item jumped out at me: "Kosher Hot Dog - The classic beef hot dog grilled and served on a toasted Kaiser hot dog bun". I couldn't pass up the opportunity to try their Dog.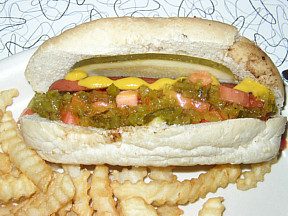 Prior to placing my order, I inquired about the ingredients and asked if I could have the Dog Chicago-Style. Our waitress politely asked what I meant by Chicago-Style. I rattled off the list of ingredients and she said that she could obtain just about everything. When my Hot Dog arrived, I was able to assemble something that strongly resembled a Chicago Dog. I don't remember the name of our waitress, but she was such a great sport about my unusual request. She really took this seriously and even brought me 3 different types of pickles to try.
The Hot Dog was outstanding and one of the pickle choices was the perfect compliment to my assembled creation. The Kaiser bun was great and although the relish wasn't visually the bright green kind, it still had a nice sweet taste. Overall I enjoyed my Hot Dog and I am positive you will too. Their Dogs come with either fries or homemade chips. I have not had their chips, but the fries are an excellent choice.


The Bad and Ugly
"Eating With the Fish"
Mitch's Family Trip to the Shedd Aquarium - Chicago, IL - March 18, 2006
We decided to visit the Shedd Aquarium in Chicago. When lunch time rolled around, we headed to the Bubble Net food court located at the Shedd. There were about 5 different dining options, including a Chicago Hot Dog. Since we were in Chicago, I figured that we could get a great Chicago Dog despite paying the high prices that all tourists must endure. The kids wanted Pizza Hut so my wife waited in the pizza line and I went to order Dogs. They had a combo deal for $7.15 that included a Chicago Dog, fries and soft drink. After a short wait, it was finally time to order. This is where my excitement quickly faded as things started to turn ugly.
I told the guy behind the counter that I wanted 2 Chicago Dog combos and I will take the dogs with the "Works". After a blank stare and a long pause, I reiterated that I want the dogs with the "works". Still no response! So I said that I want the dogs with "everything". This didn't seem to elicit much of a response either. I had to actually tell him what ingredients to put on the Dogs. It was if he had never heard of a Chicago Dog, let alone created one.
Things started looking up when he finally grabbed a bun and slapped a dog in it. At one point, I saw him pick up tongs from the container of sautéed mushrooms. Luckily someone else behind the counter said "no" and no mushrooms ended up on the Dog. Next to the mushrooms was a container full of stringy onions that were sitting in some kind of pooling liquid. There was no way that those scary looking onions were going on my Dogs so I made a last minute call to eliminate them.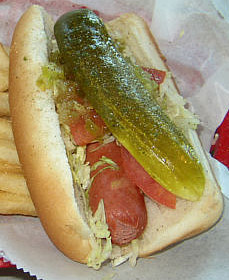 To my horror, the dogs contained shredded lettuce! This would have been a nice touch if I had ordered a taco. The only time I have ever seen a Chicago Dog served with shredded lettuce was in Boston. I guess that in Boston, it is acceptable to defile a Chicago Dog with shredded lettuce and Grey Poupon dijon mustard. Anyway, back to the story. Speaking of mustard, I was surprised there was not a drop of mustard on either Dog. Sure, yellow mustard was available to put on by yourself, but it is obviously difficult to add mustard after the fact...especially since mustard should be the first topping.
The buns were nothing special and did not contain any poppyseeds. My wife thought that the bun tasted a lot like Wonder Bread. The relish was not neon green, it tasted marginal and the quantity was extremely skimpy. The tomatoes were sliced. One bright spot was the pickle spear. One of our Dogs had no sport peppers, but had celery salt. The other Dog had 2 sport peppers, but no celery salt. The Dog tasted good (at least compared to everything else). I did not see any signs indicating brand affiliation so I have no clue which Hot Dog brand is sold at the Shedd.
When all was said and done, this is one of the worst Chicago Dog experiences I've ever had and can only recommend that you avoid it. I struck up a conversation with someone at a near by table who also ordered a Chicago Dog. I asked him what he thought of it. His answer: "It is my first Chicago Dog, and probably my last". That's too bad since the Shedd Aquarium gets about 2 million visitors annually. I hope that the Shedd would use this opportunity to showcase Chicago's finest instead of making people wonder what's so great about a Chicago Style Hot Dog.
Click Here to see the complete review.


"Dogs, Lies and Video Tape"
Kevin's trip to Washington, DC - December 7 – 11, 2005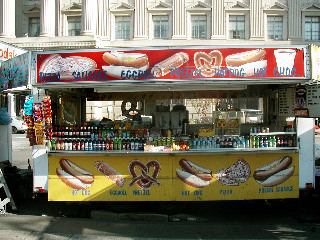 I was filled with shock and awe as I saw a sea of hot dog trailers lining the streets, on my way to the National Monument. Vienna signs appeared like wallpaper so I approached one of the vendors and asked if she sold Chicago Dogs. She didn't seem to understand this foreign terminology, but gave a positive response when I pointed to the Vienna poster. This was going to be a great trip…
On day two, I approached one of the dog trailers and ordered a Vienna red hot with the works. My first inclination that something was terribly wrong occurred when she asked me if I wanted a "normal" or "spicy" sausage. In a lapse of judgment, I blurted out "spicy" and watched in horror as she grabbed a ¼ pound polish, split it down the middle, filled it with mustard and catsup, dotted it with chopped onions, and handed me this "freak of nature". The "dog" wasn't too bad, but it was the first of many disappointments to come my way while searching for the perfect DC-Chi dog. I had to press on, so I asked if true Chicago Dogs were available and she assured me they were. I was a bit skeptical, since I was still shaken after the "polish sausage incident", so I quizzed her on the ingredients and she passed with flying colors. My confidence was somewhat restored when she mentioned the inclusion of a poppy seed bun, however, stock was low today and they would be available tomorrow.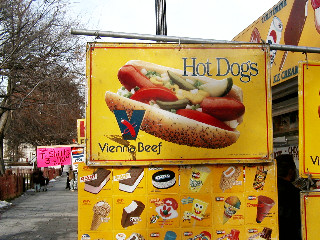 Visions of my first DC "Chicago" street dog danced in my head as I headed to the trailer on day three. Upon arrival I ordered up a Chicago Dog and noticed a different person was working the cart. She gave me a blank stare, so I desperately pointed to the Vienna sign that clearly displayed the essential Chicago dog with the works. This didn't seem to help, since she shook her head and told me she didn't have any. Was I getting caught up in a sausage conspiracy? Somebody was obviously sabotaging my quest for the perfect dog…but who? I was starting to smell the pork.
The situation deteriorated on day four. I decided I had to expand my sample of dog trailers. As I walked toward The Mall, I noticed it was dotted with more dog vendors. I found that most of the trailers displayed a variety of Vienna signage, but the Vienna hot dog poster was mysteriously missing from some. It was time to get to the bottom of this conspiracy. The strategy was simple: only approach the trailers that prominently displayed the Chicago Dog in their signage. I found four such trailers and asked each vendor a simple question: "Do you have Chicago Dogs". My paranoia was bumped up to "level orange" when this quest didn't turn up a single Chicago Dog. I now focused on determining if any of these vendors even sold Vienna beefs, since I was starting to have serious doubts with the entire system. After ordering a Vienna dog, I was given something that was either a grossly overcooked red hot, or a sausage of unknown orgin. At this point I could not go on. The city had crushed my spirit and obviously had a personal vendetta against me, so I could no longer carry on with my duties. My job was finished for this trip.

Your comments are always welcome. To contact us, Click Here.
---